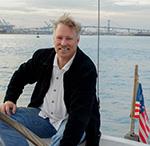 Sailing with Albie!
Hi Team! 
You have to REALLY want success deeply or you will NOT take the steps you need to get it. 
.
 How are you this week? This week we a "down week". We had 1 subscribers, 2 people asked for the link, 1 person emailed me back and we had 0 new sign ups this week.
I'm working to switch some of the capture pages this week so hopefully next week will be better! 
As there are not any of our direct team members on Step Nine, we are helping Marija, Igor and Krishna as they have helped build our team too. 
Thanks to Elizabeth for helping us with Step Thirteen of The Sixteen Steps. Her team hit a total of 18,981 hits this week! WOW! That's amazing!
Arthurs has had 2241 hits for his team this week and 4 subscribers. Great job Arthur! Great work Arthur getting through Step 10! 
Torab (under Arthur) is our newest Team leader but is in hospital for a chest infection. He will probably be in hospital for the next two weeks. Please keep him in your prayers.
Please also pray for Edet as he was in a car accident. Thankfully he was not seriously injured. 
.Congrats to Steve, and John Vance for getting their 1000 hits and above! 
Great work

Steve

for working on Step 8!  
.
 Good job everyone working to get to the next step or to get hits for the team including Eric, Steaven, Roger, Lyn, Wayne, Leyon, Walter and Shane. Please contact me this week to move forward.
  Mark, Brenna, Phil, Joseph, Esther, Brian Ramirez, Henry and Jeremy please contact me this week as we want to help you find success on our team too! 
We did combined total of 9,026 hits this week. If you add both Elizabeta's team and together we had  28,007 hits! Thank you for all your hits this week. For some we need to put in some more effort. We could NOT have done that many hits without ALL of your help. This combined total allowed us to bring in 2 new members this week
(Elizabeta's team), so remember how important you are to all of this.
Don't forget that getting a 1000 hits allows you to be qualified to receive new members under you and become a team leader also.  Also don't forget to go after getting you $25 starting bonus while you have time!
.
GREAT JOB TEAM – KEEP IT UP! 
.
This week I want to share with you

"How to advertise your GDI blog!

.
.Many times I see someone's blog advertised online and smile. I enjoy seeing someone's journey and what they have learned. Now you can share your interesting blog post too and also have a squeeze page to capture new subscribers!
.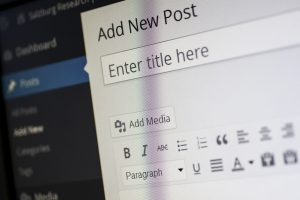 ,
Scroll down below article
and notes to find
HIT COUNTS! 🙂
.
.
How to use your GDI Website to Advertise:
 I have created something cool for you to be able to add to your GDI blog and be able to advertise with! I also added this into Step Three for all of you so you will be able to share it with your team.

I have made a simple HTML code for you that you or I can add to your website that will give you an instant capture or squeeze page to get new signups for you and our team! 

When you complete Step Three and get your website up and running, I will help you add the HTML code to a web page on your site and help you add your own picture. Here are the details now also explained in Step Three too:
Here's a couple sample pages with the HTML added: 
,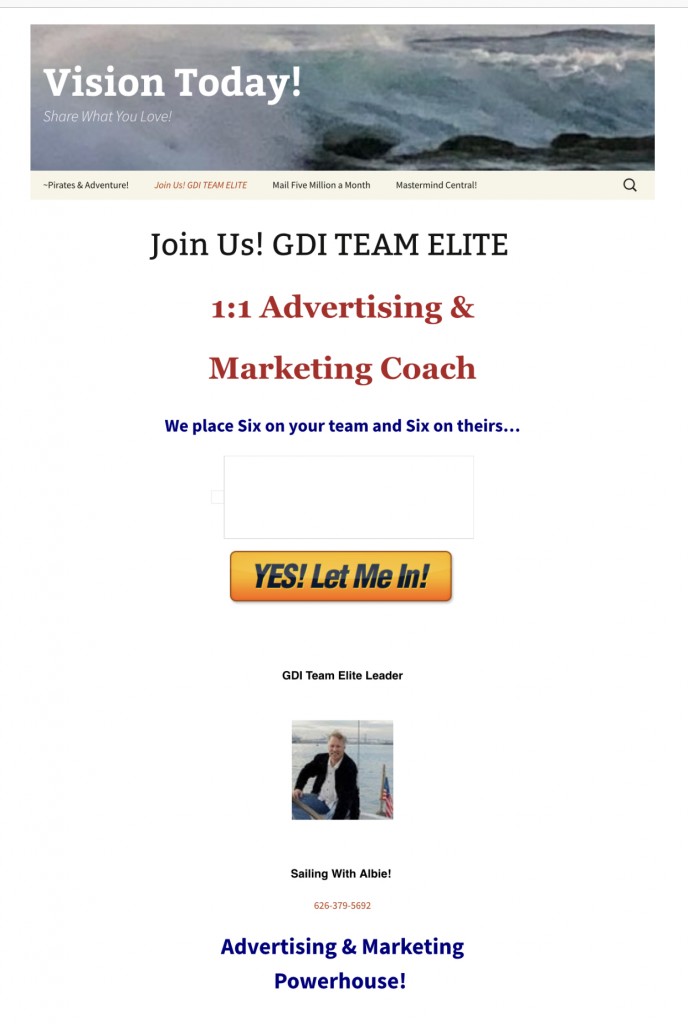 .
Albie's GDI Blog with Advertising Squeeze Page.
(This is an example of the page you can advertise
using your GDI blog except with your picture). 
.
.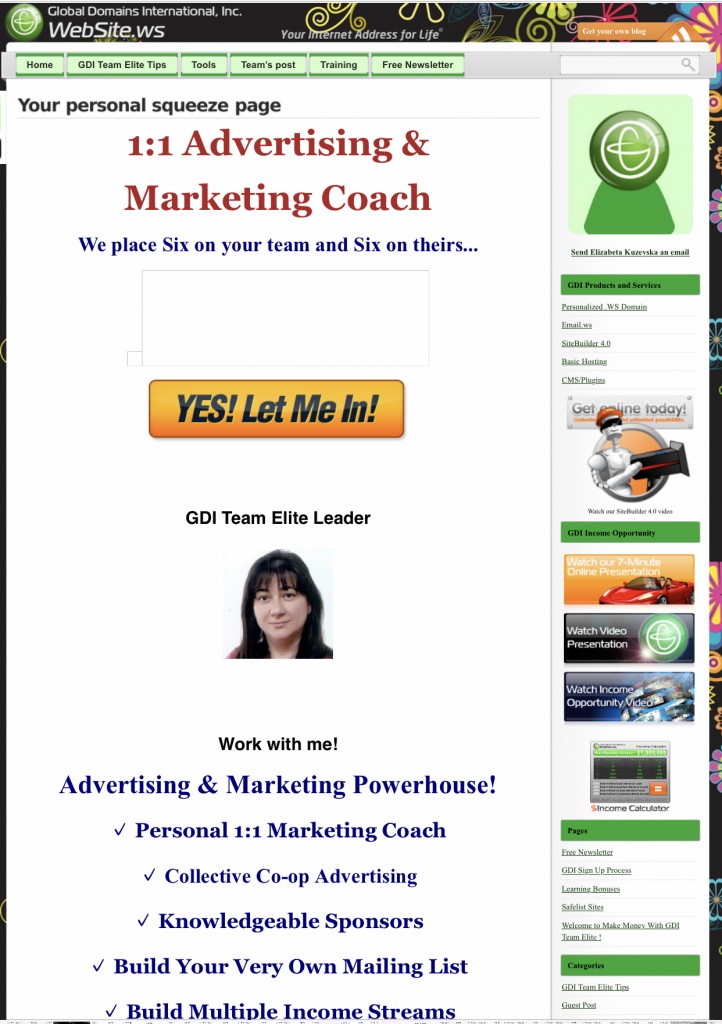 Elizabeta's GDI blog Advertising Page
You can also have a page like this except with your picture.
.
NOTE: Both of these sample pages are just pictures and don't show the complete squeeze page.
.
You can have a page like this except with your own picture connected to bring people in under you (they will still be on our team). We will help work with them and anyone joining our team from this page will be direct referrals for you and enable you to get the last part of the Learning Bonus so you can earn the $25!
Having a page with your picture should help you potentially get a new signup faster so you can earn the bonus. Its not a guarantee but it has a much better effect in general.
We will help give you the HTML code to add this to your GDI website and help you add your picture to this also. We will do this free for you when you get your website working! 
You also have the option to join BuildabizOnline under us for $5 a month, and we will also show you how to add your picture to your replicated site, make a rotator with your blog squeeze page and your replicated site and how to track your website links.
If you also have TrafficWave (TW), we will show you how you can add a TrafficWave sign up page connected with your blog so that you can start building your Mailing List. If building your Mailing List interests you, then click here to begin a 30 day free trial of TrafficWave here.
.
In addition we will show you how to brand and track your TrafficWave (TW) page with your picture using BABO (Usually it is not possible to add a picture to a TW page, but BABO makes this possible). If you are also interested in beginning to build your very own email list, we will show you how to begin this too!
Adding this free squeeze page we have made for you and also adding your picture to the replicated sites using BuildabizOnline will most likely have a much greater effect than the regular replicated sites without your picture. Believe it or not but your picture attached adds a lot more credibility to your ad and shares that there is a real person attached to this opportunity.
Let us know after you get your GDI site up and running and we will help you attach the squeeze code to your page so you can get signups. Also if you want to join BuildabizOnline (BABO) under your team leaders link, let them know and we will help you understand how to brand, track and rotate your links. You can join BABO through your sponsors link below:
Albie's BABO Link: 
Here's a good place to start advertising: 
.
Important Note: If you liked this article or want help getting your site hooked up with the squeeze page, please email me back and we'll make it happen!
,
Always remember that building a team, or learning internet marketing is a thing of value and take time to build. Don't fall for the "get rich quick" theme you see so often out there!
.
 ~Albie
.
.
.

.
​New additions added to the Sixteen Steps.
.You can go here now to enter:
.
http://gdiblog.sailingwithalbie.ws
.
Password for the Introduction Step and Step One are here (Please ask for next password after completing assignments inside and talking with me):
Intro: AE67
Step One: AE1991597
HEY EVERYBODY!
New Advertising page added to the Team Store! Add your additional income ads for others to see. 🙂 
Have something you want to sell or buy?
You can go to the
Team Store
​.
PS: Don't forget,
if there's anything

YOU

 want to

sell

at the Team Store
PS: If you want  to know how to become an affiliate of Amazon and sell a few things here in our Team Store, or you already have a drop shipping account, then let me know!
.
"My Story" of how I joined 40 business opportunities and had very little success
* Favorite Traffic sites are listed at the end of today's page:
This Weeks 
Hit Counts
2-23-19
.
Here are the hit counts from  February 16th – February 23rd for all those who are generating hits.
If you meet the weekly requirement of getting at least 1000 hits using your team link, you will get your 6 over the course of time". 
.Please preferably get hits from safelists sites although some Text Exchange (TE)sites are ok. The list of TE's inside TE Profits are acceptable. However, please realize that we get more signups from Safelists as apposed to TE's and SOME TE's are NOT good).
.Please see the GDI TE guidelines about this at http://earn4life.ws/advancedtrainingpage/
.The key is to advertise particularly in safelist sites, everywhere you possibly can.
All those in my group even with zero counts will still get the team emails as always and the stats will be reset every Saturday afternoon Pacific time.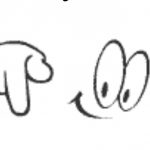 GDI User Names Listed Below:
7albie – 4,298
knightsgdi –
odlewis111 – 3
ericagyekum103 – 0
shane73 – 1
lyncoulter – 70
Barbsmoneyline100 –
rjas19 –
gdiwinteam – 
recpark17  –
geefster  – 51
biggem28 –
Juanbenero77- 
ekuzevska5 – 30
Torab8 – 293
mtrimcheska1 – 52
rjs28 – 9
Edarch3 – 537
Ivoljc – 1
Successbuilder10 –
Johnv7 – 941
Hostmartz – 2,741
r2rguru – 2
If you have trouble getting your 1000+ hits, you know what to do….just ask me or your direct sponsor for help. And remember that auto-surfing is not allowed simply because no one sees our ads. If no one sees them then no signups comes our way for us.
Hope this encourages you on your weekly mission getting your hit counts!
Note: If you wish me not to continue sending these team emails to you then please let me know and I'll take you off the mailing list.
Weekly Tip:
.
Work on your website or blog. Its how people will get to know you and how you will build rapport for your business. Check out my GDI sailing blog here. Let me know if you need help with yours!
And remember that I am always here for you! If you have questions you can always email me, Skype (sailingwithalbie) text or call me. 
~Albie
1-877-635-5708
cell: 626-379-5692
sailingwithalbie@gmail.com
 I really care about your success!
.
"Formal education will earn you a living but self education will earn you a fortune." Jim Rohn. 
~Albie
.
.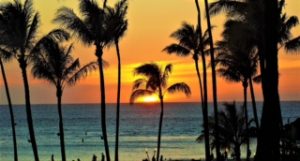 Thinking about a vacation! Get your FREE $200 VIP Card TODAY by clicking Here.
OR
If you like watch this short video and if you can say "No" at the end, well give you $1000 worth of hotel savings. Go here!
These will give you the BEST Hotel rates available with Taxes already included! 
 My wife and I just saved $275 recently on our holiday in Hawaii! 
My Best Safelists:
1)
Referral Frenzy
Referral Frenzy will allow you to mail to 89 top sites with just a few clicks! I use it every week.

2)
European Safelist
I upgraded in this mailer and am able to send one million emails a month! I love this!

3)
Mountain High Mailer
One of my FAVORITE mailers! Dianne pays a lot of time and attention to her website to make sure there are lots of visitors each day and that you are a happy customer.
4)
AdTroopers
This Mailer is similar to quality and traffic hits that I get from Mountain High Mailer.
5)
Mail Our List
One of my Powerhouse Mailers!

6)
Blast My Ads!
Solos sent to 47 sites and over 104,865 members!
7)
EasyHits4U
This is a big advertising method with 1,400,000 members! 
Its been around for over 15 years. 
.
8)
Secrets of the Big Dogs
Ready to begin advertising on a bigger scale? 
Generate up to 10,000,000 (that's right, I said ten MILLION!) targeted, pre-qualified prospects every month!
I used 'Secrets of the Big Dogs' to gain the knowledge and experience that it takes to advertise on a larger scale than I had done previously (even when I spent hours each day using free advertising methods). Even if you don't have a lot of money, its worth joining so that you can save and build your advertising power over time!
.
To your success!
~Albie
REQUIRED EARNINGS DISCLOSURE:  Any statements of particular income amounts, or any experiences shared by the individuals in this email or on our website are exceptional and likely do not represent the typical results. The info being shared here applies only to specific individuals and does not indicate that you will have the same results. As the only data we have to share with you comes from people such as these who voluntarily share what their incomes or experiences have been, it is factually impossible for us to state what the "typical" experience is. It is not possible for us to measure all results of all participants. All income derives only from the sale of products. This email and any content on our website shows only the potential possibilities of the program as it relates to these specific individuals. Again, THESE RESULTS MAY NOT BE TYPICAL. No results from any person using our program in the past should serve as any indication that your results will be similar in the future. In short, this is a business and there are no guarantees in business. Nothing in this presentation or on this website is intended to convey that there is any guarantee of income. Your results will depend on your execution in your business and how many sales you close/how much business you acquire, just as it would in any business in the world. If anything in this disclosure if not 100% clear to you, please do not continue. If you are offered another opportunity where they share testimonials or individual accounts of their results, and they do not make sure that the above disclosure clear, just know that they are not following the law of the USA. Hypothetically, even if every single participant became a millionaire (which they absolutely do not, this is only a hypothetical example to make a point), and we could document that hypothetical, we would still be required to make this disclosure.