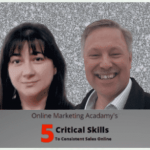 Albie & Elizabeta: Team Leaders
GDI Team Elite,
Prosperity Marketing System
& Power Lead System
.
Hi Team
"Either

you

run the day, or the day

runs

you.
"
Jim Rohn
A few weeks ago we had an adventure going to San Diego plus a bag-full of tips how to earn successfully online. Enjoy!
This week we have a new team leader – Eamonn! Now we just need to help Eamonn understand how to grow his team.  I hope you read the "Team Update: Do you believe in Ghosts" by pressing the blue button at the bottom of this page).
Also I'm really proud of Alastair, John Kalin, Eamonn, and Krishna who had high hits this week! Keep up the awesome work! To everyone else on the team working hard, I want to say good job also. 🙂 
We also have five new members (2 PLS and 1 GDI and 1 PMS). Welcome to our new members: Jon Viera (GDI), Vincent Gladue (PLS), Heather Dake (PLS)
Congrats to our members from last week: Haji Amir Hamzah
(GDI – brought in by Bruce),
Nelson Coy (PMS & GDI), Bedford Tyilekile (PLS)
PS: Have you read my article last week and see how just following basic principles of not quitting and persistence to find correct marketing skills changed everything over time for Elizabeta and myself (and it will do the same for you too!). Scroll down and click the the blue button to see Team Article for details.
.
This week Stats are recorded HERE. If you click through to the Stats page, that will be from a previous week.
Congrats to:
Congrats to myself for highest hits of  3,389
Congrats to Alastair for second highest hits of  2,788
Congrats to John (Jack) for third highest hits of  1,526 
Congrats to Eamonn who came in forth with 1,315
Congrats to Krishna who came in forth with 1,009

Great job! And Thanks to Everyone for Your Team Effort!
.
DON'T FORGET YOU MUST HAVE 1000 HITS A WEEK AND PASS STEP 3 OF THE NEW "STEPS TO SIX FIGURES" TO GET NEW MEMBERS PLACED UNDER YOU. 
SCROLL DOWN TO SEE ALL HITS!
.
7albie – 3,389
lyncoulter –
Torab8 –
sailorob –  25
BearpawGeneral – 2
wairoa1 – 36
monax1 – 3
michealpett –
best4u – 2
bluskye – 2
Colake02 – 7
successunlimited2019 –
reidburnz72 –
jcesero –
Onlinewealth (Douglas) – 1
Knightz2 – 2
TheGem – 1
rodneycolemanonline – 1
angler625 –
Onlinewealth (Duncan) –
Dakesgdi1 –
bruce1615 –
karenjw2020 – 
Lorenzo nkouedjo –
wmyrral –
Shane197336 –
WinningwithDan –
tupuivaolavemauga51 –
Goodwin35 – 438
Muluhia –
matsonline –
moneyadvisor – 3
mlewis1236 –
tambudzai –
kennysbiz88 –
3x3z –
aidajankauskait – 5
cryptomonster –
jimbomsw –
melc2020 –
hostsmartz – 1
emcevoy – 1,315
ahruddick123 – 2,788
profitwithdave – 34
whitemcs –
johnkalin – 1,526
rctmarketing – 9
seriousbiz20k – 1009
This Week's
TOTAL TEAM HITS:
10,601
Last week:
7,475
2 weeks back:
24,204
3 weeks back:
15,284
 4 weeks back: 20,692
.
How are you this week my friends?