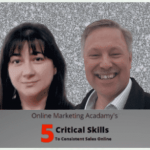 Albie & Elizabeta: Team Leaders
GDI Team Elite,
Prosperity Marketing System
& Power Lead System
.
Hi Team
"You must take personal responsibility. You

cannot change

the circumstances, the seasons, or the wind, but

you can change yourself

. That is something you have charge of."
Jim Rohn
Team Update:
This week you can see our newest update about "Success Portal" and the exact formula we use to make BIG SALES ONLINE. You don't want to miss this! You can see it by clicking the blue button at the bottom of the page!
We also have four new members (3 PLS and 1 GDI). Welcome to our new members: Stephen McGhee (PMS), David Rankins (PMS & PLS). Also Igor has had two new members this week on his team!
PS: Have you read my article last week and see how just following basic principles of not quitting and persistence to find correct marketing skills changed everything over time for Elizabeta and myself (and it will do the same for you too!). Scroll down and click the the blue button to see Team Article for details.
.
How are you this week my friends?