How the 16 Steps Works and Creates Vision, Duplication & Success in GDI Team Elite:
The Sixteen Steps is a duplicatable system that uses GDI Team Elite and other relative income sources to help you create a six figure yearly income.
Ask your team leader what step you are on and what you can do to get to the next.
It all begins with Vision.
Have you seen the possibilities for what can happen for you with GDI Team Elite?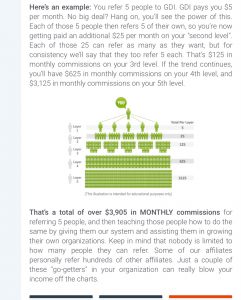 Let me break it down real quick:
Get five referrals and GDI pays out $5. No biggie right. But hold on.  Each of those then refer five so now that means you're making $25 on your 2nd level. Each of those refer 5 of their own. That's $125 monthly on your 3rd level. If this continues on level four you would be making $625 and on level 5 you would be making $3125 per month. If you have six leaders do this instead of five that is $7776 mo. Create seven leaders and this would be $16,807
Now do you see what I'm talking about!
This is called leverage. The Sixteen Steps helps you understand how to create this.
.
.
Now of course this is hypothetical, but you know with everything if you don't give up you will eventually find these people who  are leaders like you, who love the product and the compensation plan and just stick. 
"The Problem of Duplication"
The real problem in creating leverage, is being able to help someone do what you are doing.
Once you accomplish duplication, your pay and efforts double. When you build a team who can duplicate what you're doing, you quadruple your earnings and then it begins to build away from you and all it needs is your supervision. You can become very rich very fast if you can create duplication with a good system that's not scamming people.
That's what the Sixteen Steps are all about.
If you take good notes on each of the Sixteen Steps and do them, in a year from now your life ought to be very different. I know that's sounds crazy but if you trust me you will see how many income streams are built into these steps.
This next paragraph is from an online message I answered one of my clients: 
"Every step I've put together is built on a year of personal pain learning it and what 6-figure earners do. You will see that nothing I have done is original except perseverance and connecting the dots. However, the business model I have chosen for the starting process and how I've connected multiple business  types that compliment each other is original. If you're with me I would love to show you the steps and how powerful each one is. If you have 10 mins a day and two additional hours a week to support your growing team we can do this!" 
I hope this has helped you too! Keep reading on if you want to see Nine of the Sixteen Steps
.
.
Here are some "Steps" you can take now:
Step One:
Communication is the KEY to our success. This will help us walk through all 10 steps together. Give quality time to communicate with your team leader and your team. Most communication can be done through email but there are times when Skype or Facebook Messenger will help us better.
Connect with me to Skype here
SailingWithAlbie
With Facebook Messenger:
Albie Derbyshire
With Facebook here: 
(Option to send me friend request below. PS: You will notice occasionally that I promote additional income streams on Facebook that work really well there. Please just chat with me if your are interested in an additional income stream to make sure it fits with where you are at and your strategy. I don't want to create confusion for you. Don't worry – there will be a right time and place for everything. The
best strategy right now is to show you how to do GDI Team Elite successfully first!
Step Two:
Explain a big reason "why" you are doing this business. Make it bigger than just making extra income. If it's just about extra income, you should be able to find a job that will be far easier to create that. If your "why" does not really effect you emotionally (we like to say if it doesn't make you cry) then it may not be a big enough reason to motivate you to create the financial leverage that it takes. You will be needing to motivate others to work without seeing an immediate profit and this requires passion and skill.
My "why" is that I want to be able to free up my wife from working and so that we can travel the world and take out business with us. So that we are not locked into having to be in any one particular place except that it have an internet connection. I went to be able to have enough money to retire with and give my children currently and later. That dream has helped me weather years of only making a little money here and there until I finally figured out how to make consistent income online. And I will show this to you also.  But first take a little time to identify your dream and why to yourself and then me.
Make sure you have written down your dream and your "why" so you can use it later to motivate yourself and to help and encourage your team.
Step Three:
Get your $25 Starter Bonus inside GDI backoffice. Just google Global Domains international (Not GDI) and find the login site. Here it is for you:
The GDI Starter Bonus will encourage you to send a pre-made "heads up" email to your friends and family about your business. It's a super easy but I want to let you know that apart from this, this is NOT GDI Team Elites advertising strategy. We use a simple system that sends out ads across the globe.
Step Four:
Go through the 6 emails your team leader send you to get your business set up.
Step Five:
Get Your 1000 hits week.
Question:
If I can show you how to spend 10 minutes a day advertising, would you want to know how?
If you're answer is 'yes', then upgrade to Platinum membership in Europeansafelist to advertise and get 1000 hits week. See more details by clicking 
here:
You can record this website for future reference:
Step Six:
Watch "It's About Time" Video and go over GDI Compensation Plan.
It's About Time video is entertaining as well as informative. It looks like it was made in the 90's but it's ideas are just as relevant today. Check it out here!
Oh…I almost forgot…watch it on your computer as I found the video wouldn't show on my iPhone.
Step Seven:
Robert Hollis's course on The Science of Getting Rich.
There are five important video's to begin with. You can start by clicking 
here
.
Ask your team leader for details how to watch the following ones. ????
Step Eight:
Build your GDI Website with your Team Leaders help.
.
Step Nine:
Becoming a team leader with their six members. Duplicating these Nine Steps and continue to complete the Sixteen.
Curious What the Other Steps look like?*
It all has to do with learning the skills that six and seven figure online income earners teach. Things that GDI Team Elite encourages you to build:
Your Email List,
2. Creating real communication channels with your clients and list,
3. Building your advertising. and more.
~Albie